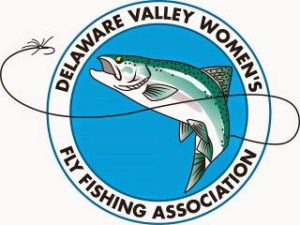 The Delaware Valley Women's Fly Fishing Association was formed in January 1996 by a group of women fly fishers in the Philadelphia area who wanted to create a network of women to fish with. We now have approximately 60 members, most from the Delaware Valley and Mid-Atlantic states.
Regardless of one's ability level, the club offers learning opportunities both on and off the stream. The only requirement to join is an interest in fly fishing.
Our programs cover a wide range of topics, from fly fishing techniques to stream tactics to fly tying. In addition to casting clinics, entomology seminars and outings, several purely social gatherings are held throughout the year so that our members can get to know one another.

   Trips and outings are a major focus of the DVWFFA's activities. From bluegills to bluefish, no type of fishing goes uncovered by our members. The club plans a variety of fishing trips and outings; day, overnight and multiple-night trips are scheduled throughout the year.
Mentoring is always available for club members.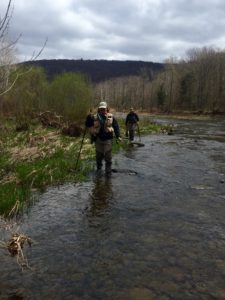 At least one outing per quarter is specifically geared for beginners, and newcomers to the sport are paired with more experienced women anglers who help them find the fish and learn the techniques to catch them.
Our quarterly newsletter "A Woman's Angle" provides a means for keeping our members informed of our programs and activities, and also for networking with other women's group throughout the country. We regularly cover issues concerning women anglers nationally and internationally, and provide information on other publications of interest as well as internet sites. Small ads are free to members, enabling you to find partners for fishing trips, swap or sell surplus tackle or equipment. Most of all, the wonderful articles contributed by our members make each issue of our newsletter "a good read" and this, no doubt, accounts for the loyalty of some of our more geographically remote members.
For more information, contact:  Alysson Cwyk ([email protected])
Announcing: The Very Best of 20 Years of "A Woman's Angle" 
Check out our website's "A Woman's Angle Anthology Tab" to find out how to purchase a copy of our 20th Anniversary softcover book "A Woman's Angle".  Timeless and memorable articles were chosen from 80 issues of our newsletter, and gathered into a fine-quality oversized soft-cover book.