Alysson Cwyk, President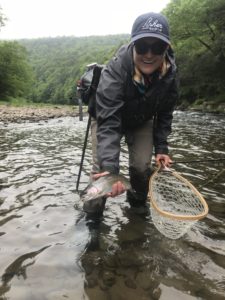 Alysson was first introduced to fly fishing as a young child by her father and has been actively participating in the sport for over 25 years. She currently serves on the boards of several fly fishing organizations and actively consults in the industry. When not fly fishing, Alysson enjoys cooking, gardening, and traveling with her wife and their Wirehaired Pointing Griffon, Gouda. She resides in the Port Richmond neighborhood of Philadelphia and works at Moore College of Art & Design. Alysson holds both a BS and MS from Drexel University.
Mary Ellen Krober, Vice President
Mary Ellen has been with the DVWFFA for about four years, starting around the same time that she began to fly fish.  She's a long-time birder and has been active in the many birding organizations in the Delaware Valley. She finds birding and fly fishing complementary activities in the sense that they both involve being outdoors in beautiful places where you can experience the changing of the seasons. 
She greatly appreciates how generous the Club's experts have been in sharing freely with other DVWFFA's members their extensive knowledge of the sport with newbies like herself. She hopes that the Club will continue to encourage women of all ability levels to fly fish, tie flies, and learn more about the sport for the next 20 years and beyond.
Jill Roberts, Treasurer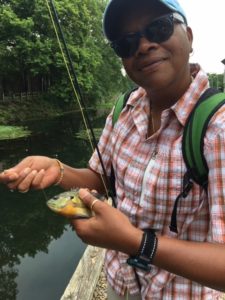 Jill has been fly-fishing  for about 6 years, but not nearly as often as she would like, saying that "Being a Center City, Philadelphia resident adds a layer of complexity to the sport."  No matter the catch count, she loves fly fishing when she is able to get out on the water.  She has been treasurer for non-profits boards, various clubs and leagues for many years starting back in college. She looks forward to taking an active role on the DVWFF board and getting to know more of the members of the association.
Becky Davis, Secretary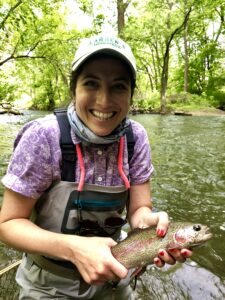 As a child growing up in Northeastern PA, Becky learned to love fly fishing through her dad, an avid outdoorsman. After a hiatus from the sport during her teenage years, she picked it up as an adult and has been hooked ever since. She lives in Philadelphia and hopes the DVWFFA continues to give her an escape from the city as often as possible!
Becky Buchanan, Events Coordinator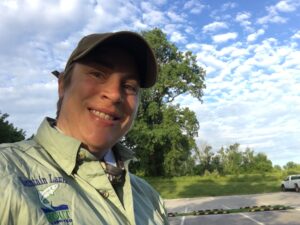 Becky has been an avid fly-fisher since 1999 when she began fishing with her Dad, Uncle, Aunt, and Grandfather in her home area of Somerset County, Pennsylvania.  Becky enjoys fishing new creeks but still keeps her waders in the waters of western Pennsylvania as often as she can.  Also, as a member of Trout Unlimited, she appreciates the sport of fly fishing as a way to tie cold-water fisheries and natural resource conservation into a great hobby.  She says "The best part of fishing, besides the enjoyment of catching fish and being outdoors, is by far the people you meet and the stories they have to tell." and that the  DVWFFA offers both great friends and new places to fish!
Ariele Baggett, Webmaster
Ariele began her fly fishing journey 5 years ago upon moving to Philadelphia and meeting Alysson.  She finds fly fishing to be a beautiful and calming sport and says her favorite part about it is just being in nature (she has been known to wander off in order to absorb the surroundings). When not on the water, Ariele spends the majority of her time working towards a doctorate in Cell Biology and Regenerative Medicine at Thomas Jefferson University.  Ariele holds a B.S. from The Pennsylvania State University and an M.S. from Temple University.
Chris Gaydos, Newsletter Chair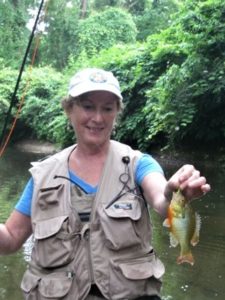 Chris started fly fishing approximately 2 years ago. Originally a Jersey Girl, she has lived in the Media area for over 30 years. When not on the stream or watching fly fishing You Tube videos, Chris enjoys tennis, traveling, photography, and is an avid knitter. The life of a retiree!
Pam Williams, Member at Large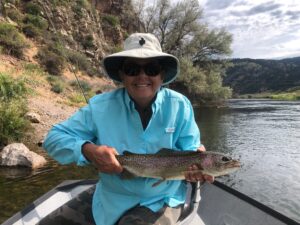 Pam started fly fishing about 4 years ago and considers herself very fortunate to find the DVWFFA. She has had many wonderful experiences on and off the the steam with the ladies of the club.  Now retired from the accounting field, she is able to fish, golf and travel at will which she considers "not a bad life." She looks forward to many years of adventure.
Wendy Finney, Member at Large
Wendy is a recently retired equine veterinarian.  She has been fishing for almost 4 years now and travels everywhere, as often as possible, in pursuit of new fishing adventures.  She has been a member of the DVWFFA for a few years and a member of the board for the last year.
Heather Purvin, Member at Large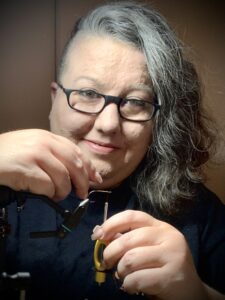 Heather is a PA native who picked up fly fishing four years ago to spend more time with her brother and nephew.  Outside of her career in organ and tissue donation, she is an active member of Trout Unlimited and spends free time enjoying BBQ, blues music, cigars and camping in wild places.  She's grown to understand why having one rod and reel is never enough and has acquired enough fly tying materials to open her own Michael's location. 
Sharon Zamos, Member at Large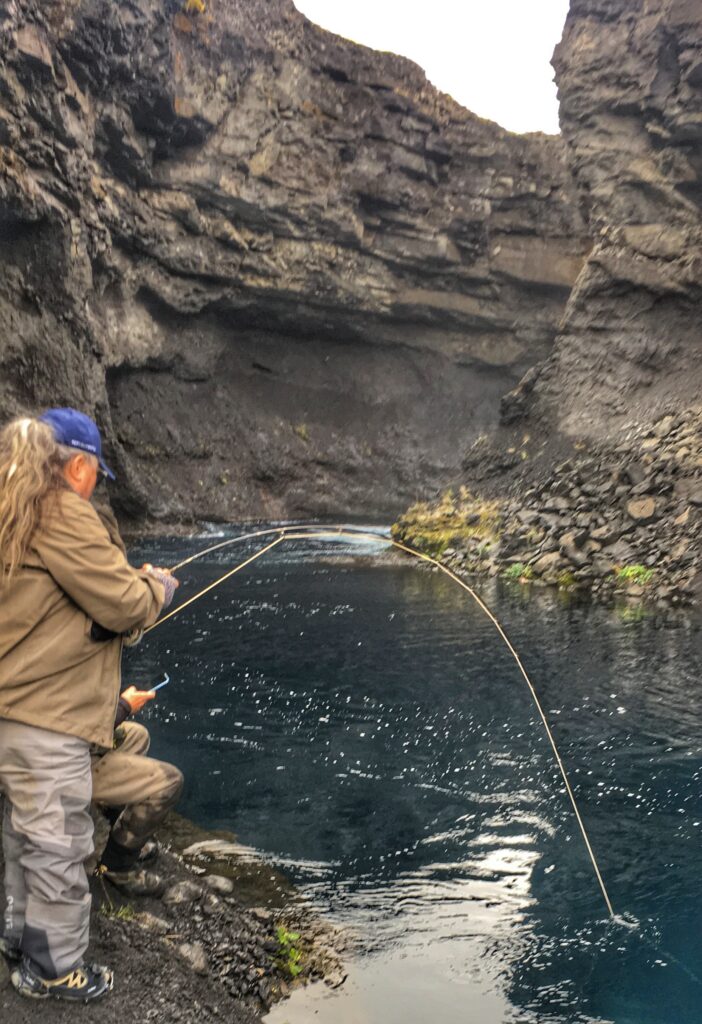 Introduced to the sport through her husband, Sharon has enjoyed fly fishing off and on for over 30 years. Over that time the lure of travel often included fishing as a destination focus.  She still considers herself a novice but continues to add fishing to her many other competing interests including history, art, independent film and three book clubs. She enjoys the camaraderie and educational opportunities from the wonderful women in the DVWFFA, and guide collecting.  She became a Member-at-large of the board in 2020.