Meet Our Board
Alysson was first introduced to fly fishing as a young child by her father and has been actively participating in the sport for over 25 years. She currently serves on the boards of several fly fishing organizations and actively consults in the industry. When not fly fishing, Alysson enjoys cooking, gardening, and traveling with her wife and their Wirehaired Pointing Griffon, Gouda. She resides in the Port Richmond neighborhood of Philadelphia and works at Moore College of Art & Design. Alysson holds both a BS and MS from Drexel University.
Christine grew up in an outdoor-oriented family and started fishing at age 5.  Fly fishing in particular became her passion in the late '90s when she began working in the family business: The Sporting Gentleman (her dad was the "gentleman") fly fishing & outdoors retail shop.   Christine enjoys fishing for both saltwater & freshwater species, but especially enjoys the camaraderie and great friends she has met through the DVWFFA.
Mary Ellen is new to the DVWFFA Board and to fly fishing. A mostly-retired attorney, she comes to fly fishing from a birding background. She hopes that the Club will continue to provide fun and interesting fishing opportunities to our expert fly fishers and fly tyers, newbies like her and everyone in between.
Jill has been fly-fishing  for about 6 years, but not nearly as often as she would like, saying that "Being a Center City, Philadelphia resident adds a layer of complexity to the sport."  No matter the catch count, she loves fly fishing when she is able to get out on the water.  She has been treasurer for non-profits boards, various clubs and leagues for many years starting back in college. She looks forward to taking an active role on the DVWFF board and getting to know more of the members of the association.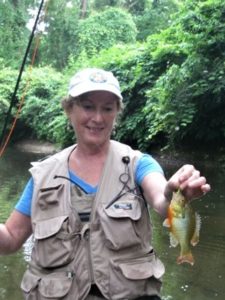 Chris Gaydos, Newsletter Editor
Chris started fly fishing approximately 2 years ago. Originally a Jersey Girl, she has lived in the Media area for over 30 years. When not on the stream or watching fly fishing You Tube videos, Chris enjoys tennis, traveling, photography, and is an avid knitter. The life of a retiree!
Having only taken up fishing a few years ago, Cynthia has found the DVWFFA a tremendous resource for mentoring and a variety of fishing opportunities.   She hails from Southeastern PA and is enjoying her retirement from the pharmaceutical industry
Wendy is a recently retired equine veterinarian.  She has been fishing for almost 4 years now and travels everywhere, as often as possible, in pursuit of new fishing adventures.  She has been a member of the DVWFFA for a few years and a member of the board for the last year.